NO accountability in sight as the F's keep coming for BCPS
From F-bombs to F's on report cards, the Baltimore County Public Schools are running amok with no accountability in sight.
And there are PLENTY of F's flying around, folks.
We reported previously about the "F's" that were heard during a school board meeting several months ago. Surely someone would be held accountable for airing pornographic noises during a public (albeit online) meeting, right?
Right?
WRONG.
The matter was investigated by the Inspector General, but it was passed back to BCPS for investigation as an "internal matter."
And, as usual, BCPS had no follow-up on the incident.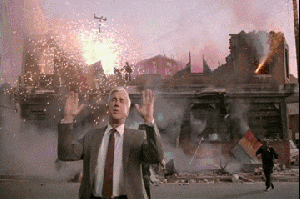 But the F's keep coming, folks.
We've gotten reports that the in-person/hybrid classes have become a total disaster for the teachers.
According to our sources, the classrooms lack consistent internet, or ANY internet, to the point that lessons are being dropped. Teachers and students can't connect to Google Meet sessions to conduct class.
And how is BCPS responding to that mess? Their encouraging teachers to use their personal cell phone "hotspots" to access the internet.
Folks, those hotspots aren't given to the teachers for free. Hotspots use the teachers' personal data plans, and the teachers are on the hook for any data overages.
Once again, the school system is failing teachers and students, but nobody is holding them accountable.
Speaking of the teachers, we're told that BCPS has caused them additional headaches due to late and incorrect W-2's, which the school system is blaming on the recent ransomware attack.
You remember that situation, don't you? That was another example of NO ACCOUNTABILITY for BCPS administration.
We're also getting reports of consistent F-bombs during class sessions and meetings, which just piles on the already failing situation.
Meanwhile, the county council is once again trying to put on a stern face and hold BCPS administration accountable for student success:
NEW: The Baltimore County Council is formally asking @BaltCoPS to send data on student success during the pandemic, and wants in-person summer teaching.

— FOX Baltimore (@FOXBaltimore) March 26, 2021
We believe this will be another instance of BCPS staying silent or saying they will 'investigate' the situation.
We're calling it as we see it, folks. There is NO accountability for BCPS, and the school system will continue to flounder and flail until someone (we're looking squarely at you, Johnny O) does something to make them accountable.
So the F's will keep on coming at the expense of students, parents, and taxpayers.
For those wishing to comment, please use The Baltimore Post Facebook Page. CLICK HERE